There will be times where your days and nights will be consumed with the pain and disappointment of life.
I've seen many families torn apart because the pain was too great – that every waking moment dwelling on the bad stuff consumed them.
We all will experience serious trials in life. We must choose how we will respond and that choice will affect every area of our lives.
I have some advice for you – a practice that I have adopted has changed my way of dealing with the hard days.
I went to the Women Counseling Women week long training with Debi Pryde and in one of her sessions she dealt with dwelling on the bad stuff.
Her advice to us?

Don't dwell. When you have a serious situation that you need to deal with, take 5 minutes, think about it, decide what you are going to do about it or plan your next step and then let it go and get on with your day.
The dwelling is what takes control of your life. We need to leave off the dwelling and choose to live our life – not defined by our pain but defined by who we are and who we serve.
God isn't punishing us.
God doesn't put pain and suffering in our life to hurt or punish us. He allows trials in our life to hone us, to grow and strengthen us…though it certainly doesn't feel like it sometimes.
If we allow the pain and stressors in life to envelope us, we will  let the pain win. We are too valuable for that. We have a job to do and we can't do it with our two hands tied behind our back. We must be free to move forward and accomplish life – to be there for our families.
5 steps to keeping a clear head when life stinks:
Think over your situation for 5 minutes.
Decide on your next move and then put the thoughts away.
Purposely think on something else.
Follow through on your decision and once you do – take another 5 minutes to consider it.
Then put it behind you again.
You will be amazed how your life will improve.
Your day to day activities will be easier. You will find hope again. You will have a clearer view of your situation and feel more in control of your life.
That one truth will set you free in a way you never expected.
You all have heard the expression "Give it to God."
This is the best way to do it. When you dwell, you keep it close to you. Not only is this not healthy, it throws you in the middle of the trees where you can't see the forest. You need to see the forest.
Now go to the mirror and say: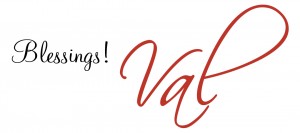 Join the Mom of Many mailing list and be invited to our exclusive M.O.M.s Facebook group where we chat every day about mom stuff.
Image courtesy of David Castillo Dominici and stockimages at FreeDigitalPhotos.net