I ended Parenting Tip #40 (Part 1) like this…
Next I will tell you how we handle the publicly declared accusations and hate mail as siblings and parents. God speed and until next time…
So how do we deal with public jabs, attacks and innuendos?
How should we react or address twisting of the truth, stretching, shading or outright lies? Should we react at all?
Should we counter lies with the truth? Should we acknowledge any accusations, stories or public defamation?
This is tough because such public attacks are not only hurtful, but they undermine the entire family dynamic. When a child publicly lashes out, other family members and friends who read it are affected. This type of bitterness damages relationships, casts shadows, and breaks down communication within a family and has no value.
Let's first look at the WHY.

Why does the adult child publicize their hatred of the parent? Is there any benefit to them?
They have bitterness in their heart that must get out. Bitterness not only blackens the heart of those who carry it, but it must fling it's slimy sludge all over anyone within arms length and with the Internet, it no longer is limited to arms length.
With the lack of maturity that is needed to deal with and eradicate bitterness, those wallowing in dark thoughts think it will make them feel better to lash out at those that they think are the cause. They are mistaken. It will only grow the more they feed it.
Bitter people don't want to suffer alone – they must make everyone else suffer as well. Those who listen to and believe the bitter person's irrational accusations have a propensity for the darkness as well. Misery loves company, so we should not be surprised when those we thought were friends pat the offender on the head and say, "You poor baby." It speaks to their hidden darkness and draws it out.
Bitterness is poison that needs to grow and destroy by its very nature. Just like happy people who must share their good news, bitter people feel the compulsion to share their misery.
Those who are bitter often have a difficult time identifying the root cause because of pride. When there is mental or emotional damage, their pride (self protection and narcissism) takes over and common sense and understanding are not present. "I must feel rotten, and it can't be anything I did, so it must be "such and such's" fault. (which usually, MOM = Such and Such)
To publicize their bitter thoughts, they are seeking approval. Since there will always be others with emotional issues, they will always find someone to "like" their words. People who are immature, gullible, bitter themselves or given to gossip and disloyalty are their best allies.
Those who are hurt often want to hurt others. It is a tough cycle to break.
How Should We Respond?

So what do we do as parents of these kids? Should we do anything?
It is very hard on a parent when they love a bitter child who is caught up in their own foolishness. Unrequited love is painful but when you add foolish behavior a desire hurt others, the whole enchilada is difficult to digest.
Have you ever read the verses, "Answer not a fool according to his folly, lest thou also be like unto him." (Prov. 26:4)
Uh huh. With foolishness, you CAN.NOT.WIN. God said so.
"Now we exhort you, brethren, warn them that are unruly, comfort the feebleminded, support the weak, be patient toward all men." (1 Thessalonians 5:14)
But we are to warn the unruly, and comfort those who struggle mentally, being as patient as possible. It is our responsibility as friends or family to warn or loved ones when they are on a destructive path, but not to be surprised if our warnings go unheeded. It's the combination of pride, foolishness and bitterness that builds the impenetrable wall.
Lose the Old Habits
I used to think that if I could just talk to them, explain, make them remember what really happened, remind them of what they were like to live with, what they did, why we did what we did…that it would all be better. Um. No. It doesn't work. You can talk all day until you are blue in the face and you will NEVER change them.
Now I only give advice when asked and don't spend a lot of time doing it – that way I know that I have taken care of my responsibility (but I don't expect change).
Dump Them into God's Lap
Only life's consequences and God's hand can change them. Period.
I used to spend hours on the phone with some of my kids trying to talk sense into them. They would hang up and go right back to the same behavior, belief system and bitter living. I would stress over our conversation for hours or even days – long after they had already forgotten about everything that I said.
It was a waste of time and only caused me to be emotionally drained and sometimes even discouraged.
I don't do it any more.
I sleep much better.
Learn to Ignore
I do my best to ignore it all (once the kids grow and go) and focus on the kids who are good to me – the kids who love me and bring me joy.
And I wait. I wait for the others to come around. I wait for life to throw them enough curve balls that they finally remember, that they finally realize that all the things that drive their bitterness are not real or at least had nothing to do with us, those of us who tried their best to do what was best for them (and were trying to survive). I wait for God to get a hold of their heart.
Guard Your Heart
Does it hurt? Yes. But I do my best to set it aside. I'm getting pretty good at it after years of practice.
The fact that I've seen radical changes in many of my kids makes all the difference – I'm seriously blessed to see the maturity and loving nature of most of my kids who have had so much to overcome. This progress has filled in the holes created by past and present hate and bitterness.
Find Your Happy Place
The fact that I've had an armful of kids and grandkids (and a DH) that have ALWAYS loved me has carried me along and kept me whole (kept me from the depths of despair and maintained my sanity, for the most part).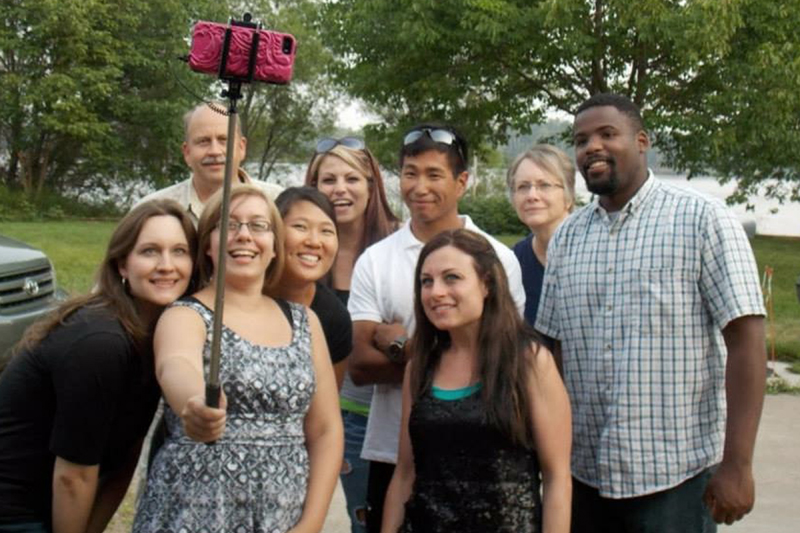 We know God has endured pain and hurt from His people and still has remained faithful and loving, giving us a great example of what his power can do to help us achieve or endure.
We need to cling to the good things/people in our life. To feel fortunate gives us the fuel to get through the tough times.
The children who know and express the love of God make it worth enduring the ones who do not.
To not go on the defensive and counter the attacks allows the door to our home to stay open – we need to maintain our hope that they will one day walk through it. Hope goes a long way.
Hang tight. Patiently wait. Pray God will work. Watch out the window. Keep the door open. Accept them when they do finally walk through. Reassure them you love them. Keep the lines of communication open. If they make things right, start new. Remember we are all imperfect and forgiveness should be immediate when asked for. Hope. Always hope.
SUGGESTIONS:
Buy the book Boundaries by Townsend. Learn to set boundaries that set you free of the pain.
Join the Mom of Many mailing list and be invited to our exclusive M.O.M.s Facebook group where we chat every day about mom stuff. If you need support, a strong shoulder or a listening ear – M.O.M. is here.
Have you ever been hurt by your kids? What did you do about it? Leave a comment and tell us about it.